MIRROR ME PHOTO BOOTH RENTAL
Our #1 premium photo booth rental company offers a magic mirror me photo booth rental for creating fun & lasting memories!
We have the famous mirror me photo booth rental available across the GTA.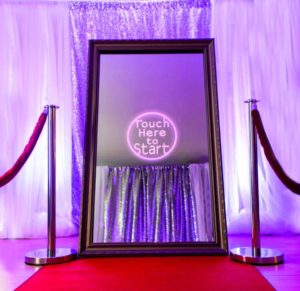 This comes with everything you'll need for a fun and engaging photo booth setup including:
– HD touch screen mirror me photo booth device
– Unlimited prints on 4×6 strips
– Custom design of template for printouts
– On site attendant
– Digital copies of pictures
– Lots of props for your guests to have fun in their photos!
– Red carpet and 2 sets of stanchions available for $100
2 Hours + 1 Hour Setup: $695
3 Hours + 1 Hour Setup: $745
4 Hours + 1 Hour Setup: $795
5 Hours + 1 Hour Setup: $845
Contact Us / Reservations
Party Decor Canada is famous for the selection of Flower Walls, Photo Booths, Marquee Letters, Balloon Decor and many more event decor rentals in Toronto and surrounding areas like Markham, Richmond Hill, St. Catharines, Kitchener, Mississauga, Newmarket, Ajax, Ancaster, Vaughan, Burlington, Oakville, Scarborough, Brampton, Hamilton, Guelph, Pickering, Whitby, London, Barrie, Oshawa, North York, Burnaby, Stouffville, Surrey, Abbotsford, Vancouver, Oshawa and across Ontario.
Call us at (647) 363-7688 for questions and reservation bookings! You may also contact us by using the form below. We respond the same day!
Email
eventrentalscanada@gmail.com
LOCATIONS
We are an event rental company in Toronto and surrounding areas like Markham, Richmond Hill, St. Catharines, Kitchener, Mississauga, Newmarket, Ajax, Ancaster, Vaughan, Burlington, Oakville, Scarborough, Brampton, Hamilton, Guelph, Pickering, Whitby, London, Barrie and Oshawa, North York, Burnaby, Stouffville, Surrey, Abbotsford, Vancouver, Oshawa